French police officers take position during clashes with youths in Amiens, France, 14 August 2012. Photo: Guillaume Clement/EPA
Amiens, France, was once again the site of distubances between immigrants and authorities yesterday, creating a chilling reminder of the recent turmoil in Anaheim, California.
From the Associated Press
:
AMIENS, France (AP) — Months of tension between police and young people in a troubled district of northern France exploded on Tuesday, with in a night of violence. Seventeen officers were injured, a pre-school and public gym were torched, and at least three passing drivers in Amiens were dragged from their cars.
At the height of the confrontation, 150 officers — both local and federal riot police — faced off against young men who fired buckshot and fireworks at them, skirmishing through the neighborhood in the city about 75 miles (120 kilometers) north of Paris. There were no arrests.
The immediate cause of the riots was unclear, but a standoff between police and people attending a memorial for a young man who died in a motorcycle accident may have been one trigger. Officials underlined that police were not involved in the death.
Relations between police and youth in housing projects have been troubled for years, perhaps decades. Riots occasionally erupt, often in the hot nights of August, when France's rich and middle classes head off for long vacations but poor and immigrant families in the projects stay home. In recent days, there has also been unrest in the southern city of Toulouse, where rival groups in two housing projects have been battling for a number of days
__________________________________________
The parallels between Amiens and Anaheim are impossible to ignore. In both cities, a permanent underclass of immigrants is chafing at their marginal status. Unemployment in immigrant neighborhoods in both the U.S. and France is higher than the national average. Adding to the volatility is a youth population among the immigrants in both countries that is also higher than the mainstream average.
Left unresolved, this is the recipe for continued unrest.
Raul Ramos y Sanchez
French Interior Minister Manuel Valls is badgered by the crowd in Amiens, Aug. 14, 2012, after a riot in a deprived area of the city left 16 police officers injured, a primary school severely damaged by fire, and a sports center completely destroyed. (Philippe Huguen, AFP / Getty Images)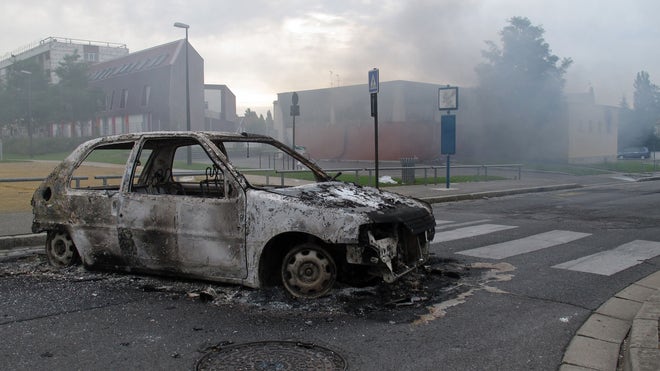 The shell of a burnt out car is seen in a neighborhood of Amiens, France, Tuesday, Aug. 14, 2012. Dozens of young men rioted in a troubled district in northern France after weeks of tensions, pulling drivers from their cars and stealing the vehicles, and burning a school and a youth center. The police department in Amiens says at least 16 officers were hurt by the time the riot ended Tuesday, some by buckshot. (AP Photo/Georges Charrieres)(AP2012)